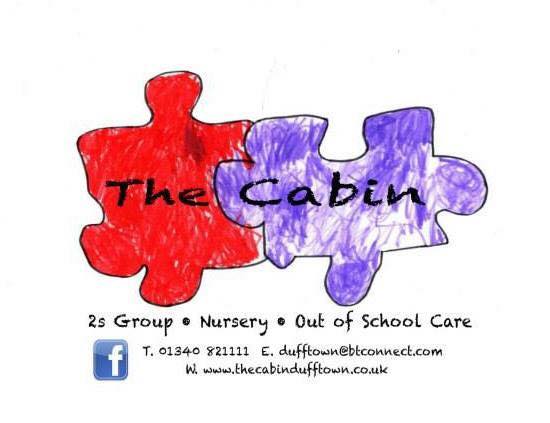 The Cabin is a Community Group that is owned and managed by the parents of the children on the Register, and is in Partnership with The Moray Childcare Partnership andThe Moray Council.
Representatives of the parents are elected to a Committee to serve as office bearers, who oversee the day-to-day running of the Centre and are the employers of the staff.
The Committee hold regular meetings (every 4-6 weeks approx.) to which all parents are invited. Your views are welcomed on such matters as ideas for outings, new equipment, fundraising, play ideas etc.
In August 2013 we changed our name from Dufftown Preschool Centre to The Cabin to promote our position of providing 2s group, nursery and out of school care.
The Group is registered with The Scottish Commission for The Regulation Of Care
(Social Care Social Work Improvement Scotland) and is a member of Care and learning Alliance.
The Cabin consists of:
• 2's Group (Tuesday to Thursday 12.45-14.45)
• Nursery (Monday to Friday 8.50-12.00)
• Breakfast and Afterschool Club (Monday to Friday 07.30-08.45 and 14.50 – 18.00)
1. Provide a safe, clean, well-organised environment which gives children the opportunity to learn and become independent within a well structured group.
2. Enable parents/guardians to continue in their employment confident in the knowledge that their children are being cared for in the way that they would wish.
3. Maintain good quality care providing a wide and varied range of activities.
4. Ensure that our equal opportunities policy is put into practice at all times.
5. Identify and provide relevant training for staff, including that required to meet SSSC requirements
6. Respect and involve parents in the care and education of their child.
The Centre offers a wide range of play activities to the children at each session. Allowing the children to participate in many play activities and learning experiences, giving them help and encouragement along the way will achieve the aims
The Cabin recognizes that all children and adults are different with differing needs and abilities, but all are equally valuable. The group aims to allow everyone to reach their full potential, free from attitudes that would limit development.
We hope to achieve this by ensuring the play environment and play activities are non-discriminatory and provide positive images of all the children and adults living in our society.
(This is a brief summary of information contained in our Equality and Diversity Policy. Please read the full policy document, which can be found in the Policies and Procedures Folder on the Notice Board at the Cabin.)
Fees
2-3 Group – £6.00 per session including snack
3-5 Group Funded – 50p snack fees per session
3-5 Group Non Funded place – £6.00 per session including snack
Breakfast Club – £5.00 per session including breakfast
Afterschool Club – £10.00 per session including snack or £4.00 per hour