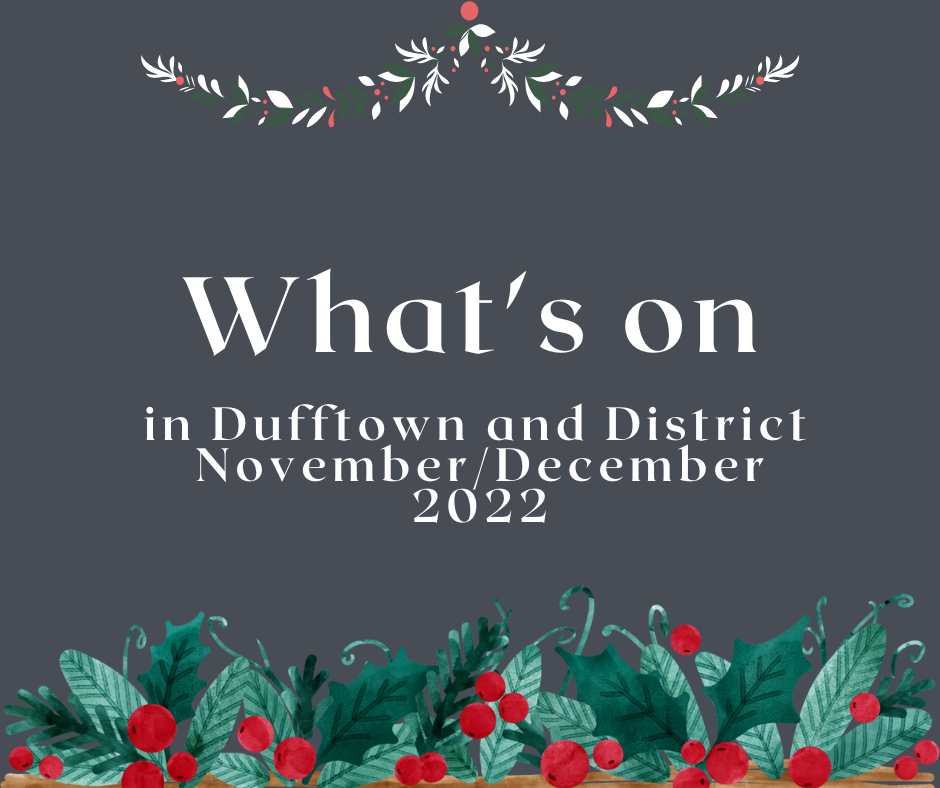 Despite social media and constant access to news through our mobile phones, it can be tricky to weed through all the information to stay up-to-date with what's going on at your own doorstep. Recently, a really useful leaflet was distributed through Costcutter with things that are on in Dufftown & District. Well done to those involved in pulling it together. Another useful place to find local information is the local Facebook Page The Speirins.
As we are approaching the Christmas season, lots of fun activities and events will take place in Dufftown and District. We have compiled a list of some of the activities that will be on for the remainder of the year: 
Dufftown Bike Activities
Sunday 20th November, Saturday 26th November
At Royal British Legion car park
Come along to lots of free bike activities here in Dufftown! On 20th November, DDCA is bringing our eBikes for free trial sessions, Tyred n Cranky will be providing lots of free bike activities, and Cycling UK Moray will be there with cargo bikes to try out. We look forward to seeing you at the Royal British Legion Scotland, Dufftown from 10am. 
https://www.facebook.com/events/1972511439760614?acontext=%7B%22event_action_history%22%3A[%7B%22surface%22%3A%22page%22%7D]%7D
Christmas Tombola for Dufftown Games
Thursday 24th November 7.30
At Royal British Legion
Star prize £100, £1 admission
Dram Tram Open Day
Saturday 26th Nov 12pm – 4pm
Keith and Dufftown Railway
Exclusive preview of KDRAs latest jewel. The Dram Tram will be open for inspection. Refreshments will be provided
Live music 
Saturday 26th November 9pm
At the Royal British Legion Lounge
Scott Ramsay
St Andrews Day Ceilidh
Saturday 26th November 7.30-11pm
Glass Hall
Dancing to Broma Ceilidh Band, £10 per person, BYOB
https://fixr.co/event/st-andrews-night-ceilidh-tickets-855577611
Wreath making
Thursday December 1st 2-4pm
Glass Hall 
Glass SWI invite you along to our Christmas Wreath making.Tea and mince pies provided. For for SWI members, all others £5 , We will provide greenery and metal wreath rings. There will be some ribbon but please bring your own other embellishments. Please bring your own scissors/secateurs and wire to hold greenery in place. If you wish to bring your own Oasis to make a wreath please do, we will help as best we can but there is no guided instructions, however we do all help each other.
Pre-Christmas Wine Tasting
Saturday 3rd December 7.30pm
Glass Hall
Get set for Christmas! Make the most of the wine offers ahead of the festive season. Showcasing 10 brilliant festive wine ideas. Cash Bar – Free Nibbles – Raffle. Hosted by Tom Macpherson and Marc Day
https://fixr.co/event/wine-tasting-night-tickets-861356563 
Bring a Party to a Party, with A&J Catering
Saturday 3rd December 6.30pm for 7pm meal
Royal British Legion
£35 per person, includes a wee bottle of fizz each upon arrival. Pre-order bookings with deposit of £25 per person by November 18th
OLD TIME DANCE IN DUFFTOWN MEMORIAL HALL
Saturday 3rd December 2022  at 7.30PM
DANCING TO SCOTT BAND. dancers £10.00, spectators £5.00
https://www.facebook.com/DufftownSCDC 
Dufftown Horticultural Society Winter Talk
December 7th, 7.30-8.45pm
Mortlach Memorial Hall
More details to be confirmed.
https://dufftownhorticulturalsociety.uk/ 
Festive Door Wreath Making
Saturday 10th December 10.30am-1.30pm
Acorn Centre, Cabrach
Join the Cabrach Trust to make a beautiful festive door wreath with the award-winning Wild Blossom Floristry. During this workshop, you will learn the basic principles of floristry, make and take away your very own door wreath, just in time for the festive period!
Breakfast with Santa
Saturday 10th December 9-11am
Commercial Hotel. Adult £10, Child £5. Booking essential, call 01340 820313
Christmas Market
Saturday 10th December 3-6pm
Royal British Legion 
The Dufftown Christmas Market returns to host a wonderful array of stalls, right in time for you to get into the festive mood. There will be both an indoor and outdoor market, entertainment for kids including a kids Santa run and grotto, hot food and drinks. The Dufftown Christmas Market will come with a big raffle with tickets being on sale as from the November farmers market. Main prize will be a brand-new Apple iPad, with various other prizes also to be drawn.
https://www.facebook.com/events/1135430004033818 
Live music at the Royal British Legion Lounge
Saturday 10th December 9pm
Diane Barber
Kids Clothing Swap
Sunday 11th December, 9-4pm
Royal British Legion
Organised by DDCA and RBl, exchange for all ages from tots to teens. We can only accept clean, unmarked, neatly folded clothing, good condition footwear and school uniforms. Donation drop off at the Dufftown Royal British Legion 09:00 until noon. Take your pick 1-4pm.
Carol Service
16th December 2-4pm
Mortlach & Cabrach Parish Church
Christmas Cinema
Saturday 17th December 
Royal British Legion
Hogmanay at the Commercial
Saturday 31st December 7.30pm
The Commercial Hotel
David Hood and Dufftown Pipe Band. Stovies & Dram served. Adults £15, children £8
Hogmanay at Royal British Legion
Saturday 31st December 
Louise Low and Hogmanay Raffle. Raffle tickets available from the Legion Lounge Bar & Rustic and Roses flower shop. £1 per strip
Midweek Mix
Every Wednesday until 19th April, 10am-3pm
At Royal British Legion
Join us for a free weekly get-together during the cold winter months for all who want to share company, coffee, entertainment and snacks. Hosted by various associations and organisations in the Dufftown community.
We have done our best to find as many of the upcoming events as possible. If you know of an event that is not yet on the list, get in touch and we'll make sure to add it!