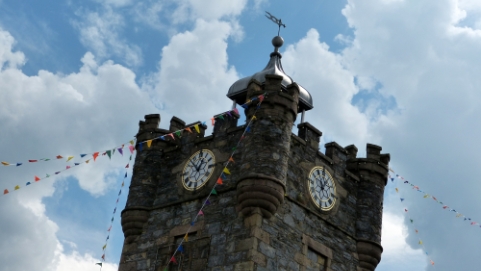 Dufftown Clock Tower to become a Heritage Museum
In December 2020 the idea was developed to transform the Dufftown Clock Tower in a heritage museum. An application for a repair grant from Historic Environment Scotland is one of the major financial aids to realise this project. Diageo, who own 3 distilleries in Dufftown, are also willing to contribute.
In the meantime, Angela Dow, a conservation architect, is making the drawings and calculating an estimate of the repairs. The next step is to send in a final application to HES.
To comply with the necessary outcomes (heritage and society, heritage and the economy, heritage and creativity and heritage and environment) a plan was created to showcase/exhibit Dufftown's history on several floors:
In the entrance hall we will give locals the opportunity to showcase and sell their craft and arts. This will also be the point of gathering as we do not want unattended visits and limit the amount of people that can at one point visit the exhibition.
On the first floor we will create an exhibition of the first known use of the tower, a jail. We have collected a huge amount of data we can use for this. We also want to showcase the history of Dufftown including the rise of distilleries and which impact they had on Dufftown.
The second floor will be about the clock that hung MacPherson and the illicit still that was supposed to be hidden in the tower when the excise man had their office in it.
The third floor will be a projection of the working clock mechanism by using a webcam. The clock is too fragile to have people go into that area. We will also use this area to show a bit more about old Dufftown with photographs, newspapers and storyboards.
To find out more or keep updated about our progress, please subscribe to our newsletter, get in touch via the website to volunteer or just to ask a question.