Last week, various community groups and residents of Dufftown & District came together to share our experiences from the last couple of years in relation to the Action Plan 2021-2026.
In 2020-2021 community groups, individuals and businesses took part in creating a Dufftown and District Community Action Plan 2021-2026. The Plan summarises views and information about the community, our vision for the future, main strategies and priorities, as well as an action plan. This is our guide for what Dufftown and District – as a community – will try to make happen over the next 5 years. 
A lot has happened since the Action Plan was prepared over one year ago. The country has been in and out of various lockdowns due to the COVID-19 pandemic. We all have had to focus our efforts to fill the most urgent and essential needs of the community. Furthermore, there has been a restricted ability to have face-to-face meetings and open events.
Now that we are able to meet up in-person again, DDCA organised an Action Plan review meeting on July 20th 2022. The purpose of the meeting was to provide a platform for groups, businesses and individuals to come together and share their experiences from the last couple of years to understand how we are progressing with the action plan. The meeting was also a chance to remind ourselves of our shared values for Dufftown and District and review our vision for its future.
At the 2-hour long meeting, we discussed what has gone well in the past couple of years. Some of the themes that came up were the community spirit during the pandemic. The food larder was established, IT equipment was provided, and Dufftown's scenic nature was especially appreciated when we all had to stay close to home. It was also shared that many community facilities and amenities have been upgraded lately, improving our shared spaces. Furthermore, there have been some great events, such as the creation of a monthly farmer's market and the Santa train.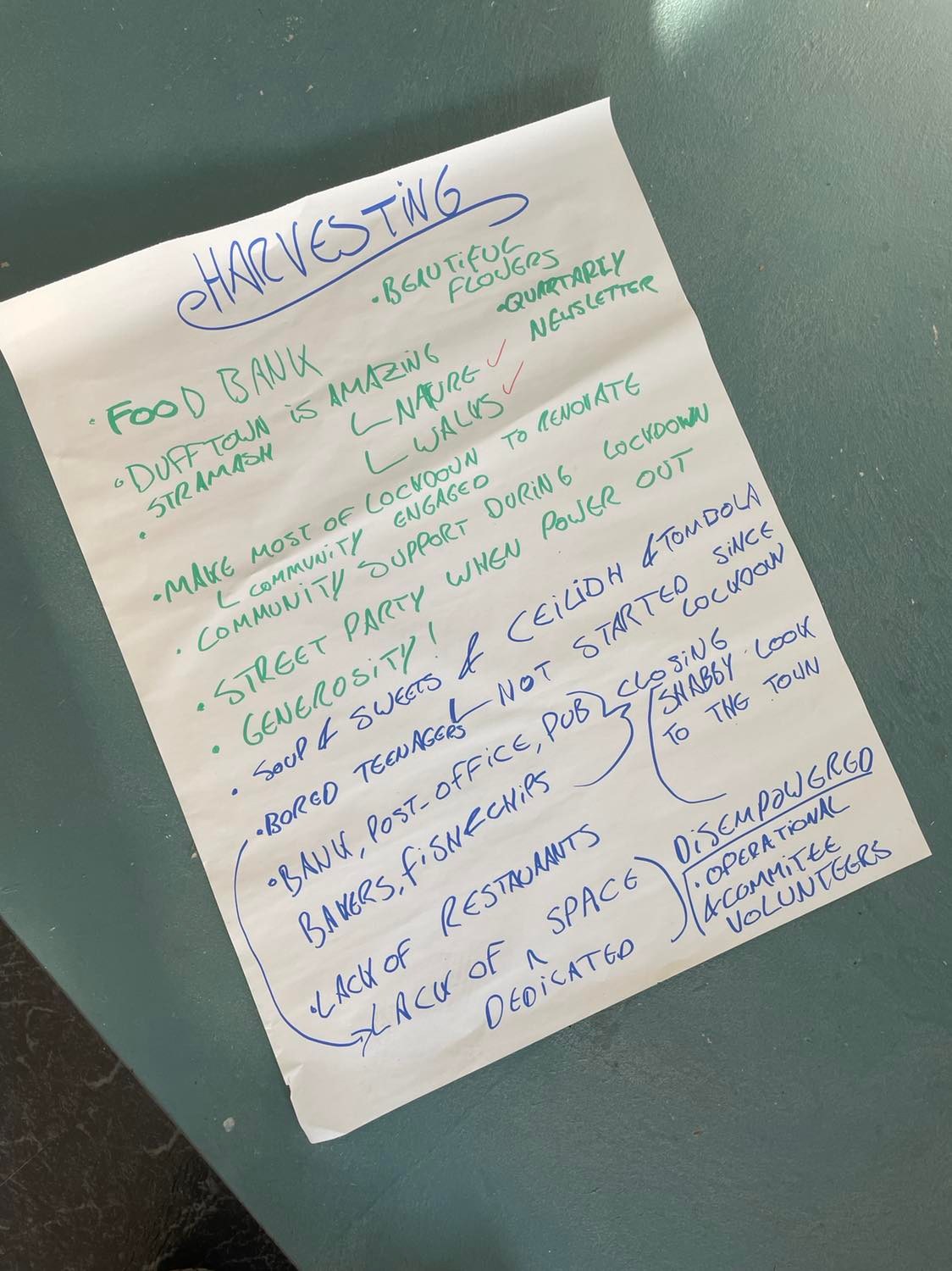 We also discussed some of the challenges groups and individuals have faced. Dufftown has lost some of its services, which is neither good for residents nor businesses. It has also been difficult for groups to fundraise for their projects and activities due to the pandemic. Lastly, it was expressed that Dufftown has the potential of looking much more inviting than it currently does. It was felt that it would be good for everyone if there was less litter, empty shop fronts and vandalism. 
What I took away from the meeting was a positive spirit of everyone wanting to get things done and to meet up regularly. The community has already achieved an impressive amount of points set out in the Action Plan. I will share a report on this in the next month. Just let me know if you want me to send it to you. We will also share a summary of the meeting as well as details for the next Action Plan meeting later this year in the next Speirin's issue. As always, get in touch if you're interested in getting involved.