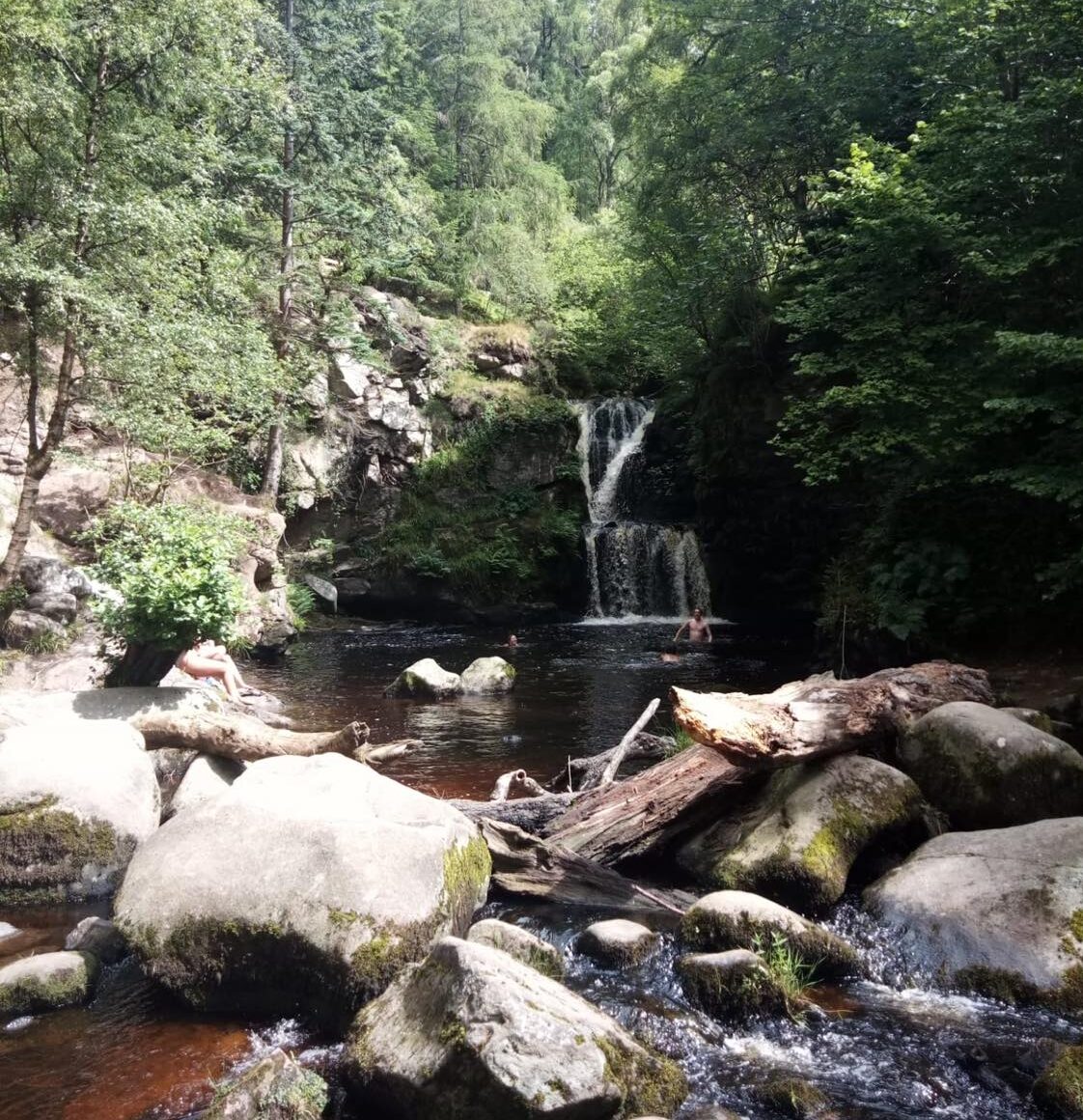 As I have previously mentioned in my blogs, I am a big fan of swimming outdoors. While I used to do a lot of sea swimming when I lived in Aberdeen, I prefer fresh water and am always on the lookout for good lochs or rivers to go for a dip in. One of my favourite swim spots in the area is Linn Falls in Aberlour. Last week I went for a well-deserved dip while out on one of the DDCA eBikes.
I really like cycling over the Blue hill via the public footpath, as that means I can get to Aberlour without having to cycle on the main road. I mapped out the route a few months back. Last time I went up there, it was spring time and the bushes and trees were still bare. This time, nature was in full bloom. It is amazing how different everything looks depending on the season.
Once in Aberlour, I went down to the River Spey, along the graveyard and crossed the main street by Aberlour distillery. From here, I followed the trail into the woods that take you to Linn Falls. The trail actually continues up the falls and you can follow the burn in a circular loop that eventually takes you back to the top of Aberlour. Once at Linn Falls, the hardest bit of outdoor swimming awaited me – getting out of your clothes and mentally prepare for those first ten seconds of cold water to hit you! I usually do some starjumps and squats to warm the body up first. You look a bit silly but I find that it helps to get in the right mindset. Then it's the process of actually getting in the water. My strategy is less thinking – more doing. If you think too much about it, the risk of talking yourself out of it is much bigger. Once you are in, concentrate on getting your breathing in control and just enjoy the feeling. Remember to keep an eye on your body temperature and get out before you get too cold. It is always best to increase the time you are in the water slowly over several swims as your body learns to cope with cold temperatures.
Why I love outdoor swimming so much is the mental boost I get from it. It's a chance to improve your self-confidence by doing something despite it being a bit uncomfortable. The feeling has a lasting effect and makes you more likely to get out of your comfort zone in other areas of your life. I'll be going for swims regularly this summer, so just get in touch if you want to come along.